by Julia Peacock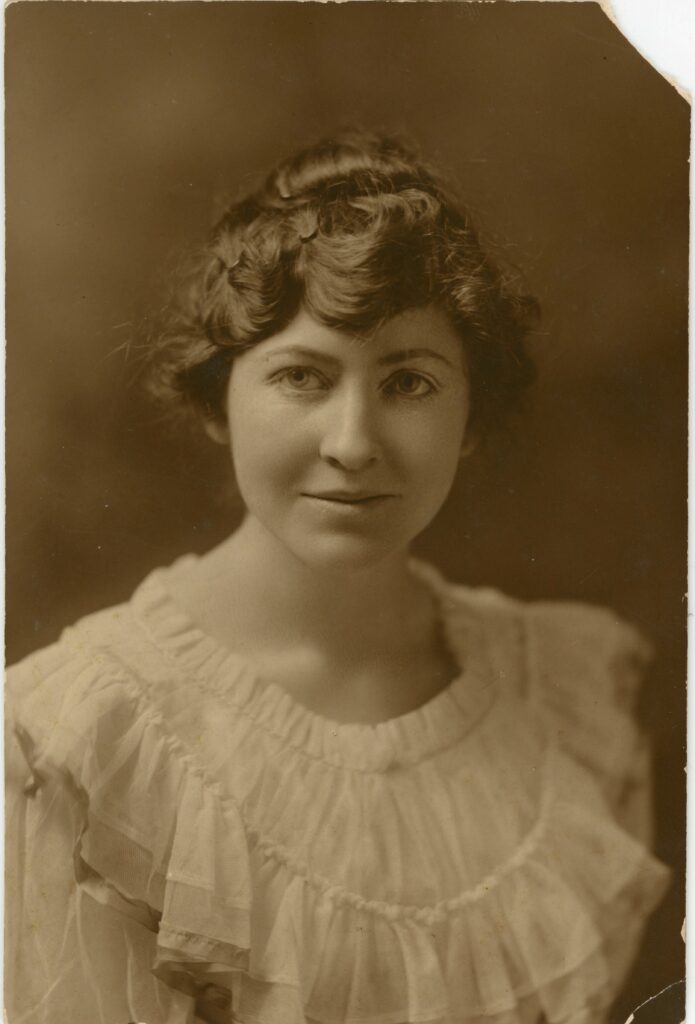 In her ledger, Myrtis Leonard Conry recounts the joys and sorrows of her day-to-day life. A wife, mother, family manager, and community member, Myrtis took immense pride and joy in her life, the difficulties are (almost) all recorded here in her 78 diary entries. One unique thing about this book is that it was first a ledger account for the Tennessee Polytechnic Institute (T.P.I.) Farm that her husband, Joseph E. Conry, ran for the school. It also served as a personal ledger for her family's expenses. Myrtis then repurposed the book as a diary and recorded 78 diary entries ranging from 1928 to 1938. At the end of her ledger, she recorded her family history back to her four-times great grandfather who came to America in the 1750s. She wrote primarily in blue or black pen, however, there are some entries written in pencil. There are many things to love when reading her entries. She was sweet, kind, and caring, but could also be very sassy when she wanted to be—traits that are also seen in her stories about her two children; Joseph Enoch Conry Jr. born 1923, and her daughter Myrtis Irene Conry born 1926. The entries start in 1928 when her kids were five and two.  
She started her diary in 1928 as a New Year's resolution, and I certainly cannot fault her for the inconsistencies and time gaps in her entries. She called herself out almost every new year for her jumps, in 1932 she exclaimed, "How wonderful the spirits have moved me to write again in my diary on New Year's Day! After six months of a busy, challenging, year, we are again ready to settle down to another year of living" (p. 55). In January 1921, Myrtis married Joseph E. Conry. On almost every anniversary she recounts her wedding day and what they did to celebrate the anniversary. She remembers the day so fondly that she writes about it twice almost verbatim, and later calls herself out for the repetition. One year, she added a sketch of the house they were married in.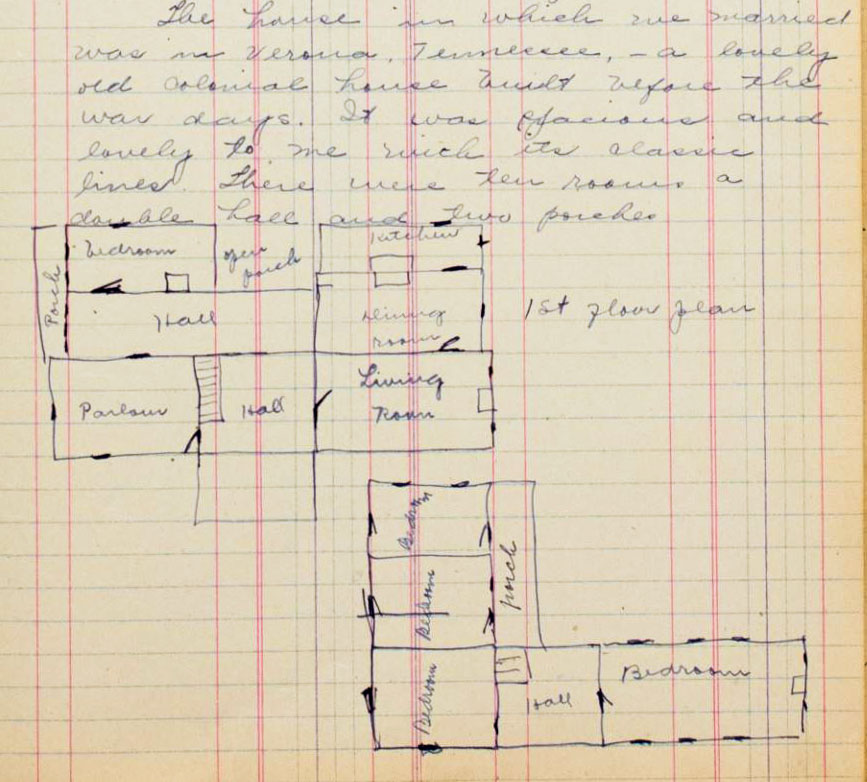 Myrtis Conry was highly active in her community. Throughout these 10 years of accounts, she was president of the Book Lovers Club and the Parent Teacher Association. She was also the secretary for the Local Daughters of the American Revolution Chapter as well as a member of many other clubs and organizations like the Thursday Afternoon Club, the Mothers Club, and more. She graduated from T.P.I in 1929 with a bachelor's degree in Home Economics, but her main passion was reading. Her diary contains around 30 titles of books she read throughout her entries. In an early entry she mentions President Quinten Miller Smith pulling a book she was reading, Will Durant's Story of Philosophy, from the shelves at the library in 1928—shortly after the Butler Act— because it contained, "too many radical statements on anti-evolution" (p. 7). She comments on a few political topics too; for example, she discusses prohibition and the Hoover versus Smith election, as well as Tennessee's funding for public education and the financial state of the great depression. In addition to books, she often talks about radio broadcasts. It was extremely cool to see her casually mention historical events like Pope Pius XI's first broadcast, Benito Mussolini's first address to the American people, and perhaps the coolest, the Abdication of Edward VIII. She remarks, "The Tolling of Big Ben seemed the funeral Kneel of the British empire" (p. 85).
She also talks about some notable happenings on campus, like when the college became a four-year university when they finished the original president's house, and the completion of other buildings like the science building—now the T.J. Farr building and home to the Department of Education. The Conry's were friends with many couples whose names have since been immortalized on our campus, among those are the Farrs, Fosters, Overalls, and Hendersons. They had many bridge games and dinner parties with these couples, and they all were great friends.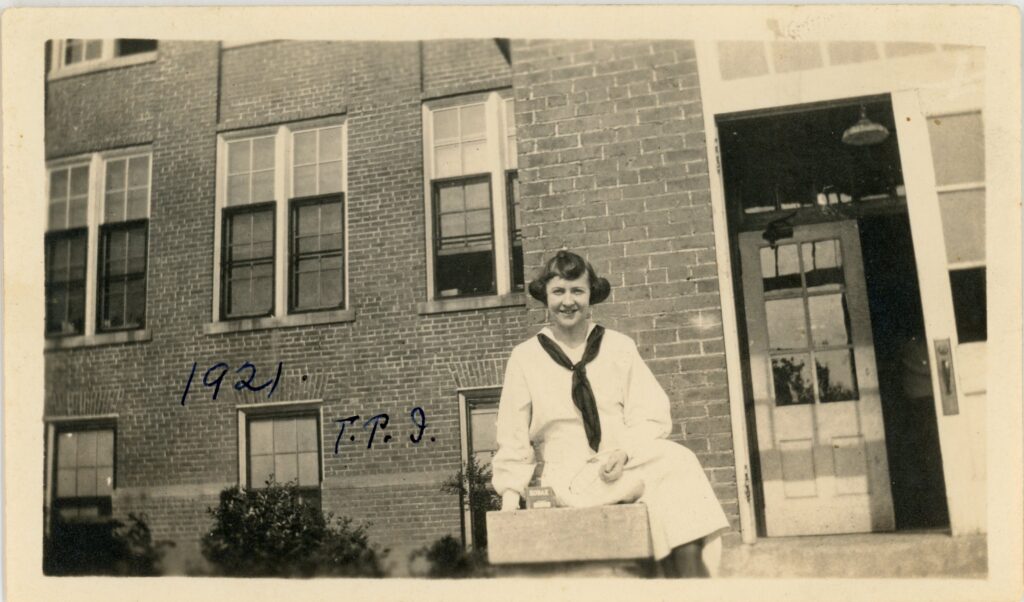 Her diary takes place during the Great depression. The Conry's were not directly affected by it until about 1932 when she comments that it had been six months since they had received a salary and how that has affected their social life. They had fewer parties and only had close friends like the Farrs and Hendersons over for Sunday dinners. A few months later their situation improved, and they bought a new washing machine. She remarks that it was the first time she had ever done her own laundry. While money was tight for her during this time, she was still doing very well compared to some of her other friends; she writes about receiving a letter from her friend Stella, who had moved to West Virginia for a job, which ultimately fell through leaving her penniless. Myrtis shares her feelings about Stella's predicament but does not mention what becomes of her after her second "unhappy letter."
Throughout her entries, she records the various illnesses and death of friends and family. She writes in detail about the funeral of Mayor Jere Whitson in 1928, and about hearing the memorial service of Chief Justice of the Supreme Court and former President William Howard Taft in 1930. When friends and family write to her about illnesses or deaths, she is sure to record every detail. In one entry she describes how one of their farm hands/boarders got attacked by a boar the September before he came to stay with them, and how he required 33 stitches and survived "Blood Poison" without having to lose his leg. In her last entry, she details a strange dream she had a few days before where she thought she saw her daughter lying in a casket. Myrtis then writes in equal detail about the terrible train crash that her friend Gladys Castleman Crawford was in that injured Gladys and killed her young daughter, Barbara Jean. She recounts a chilling déjà vu experienced when seeing Barbara Jean in the casket. 
I found so many interesting things in her diary, from the little quips about her family or friends to the descriptions of her party foods. Myrtis Conry's diary is filled with many interesting stories about life on campus in the 1930s. The archives have this ledger along with family papers, photos, and diplomas. The archives also have three other diaries from 1949, 1950, and 1954, which are sure to be filled with more interesting tales following the end of World War II.
Here is the digitized ledger.