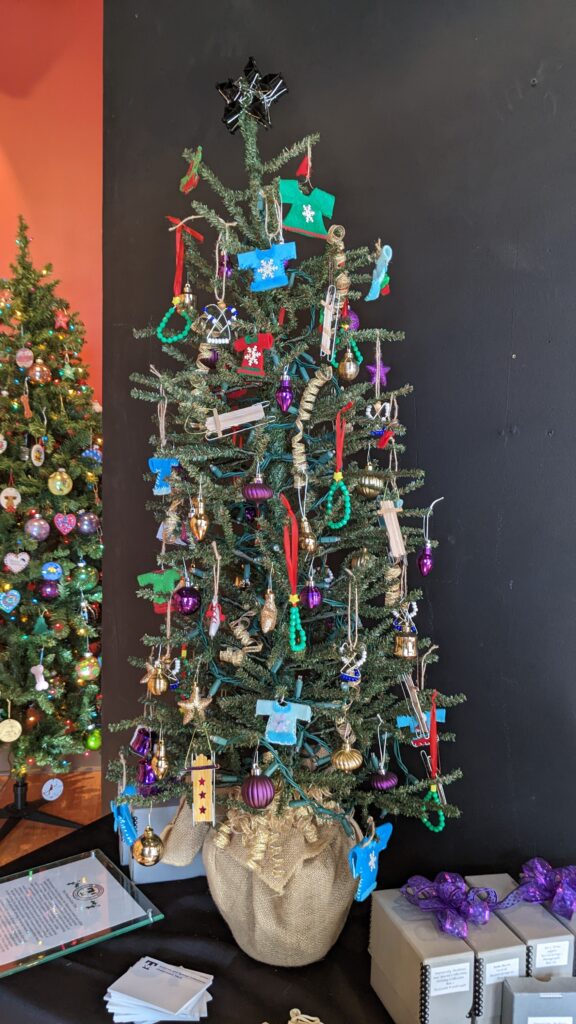 Tennessee Tech Archives participates annually in the Christmas Forest exhibit at the Cookeville History Museum. The archive creates a tree that represents work that was performed in the archive that year and they combine the work with a little bit of creativity. This year, the Christmas tree depicts ornaments that represent a small part of the preservation process that archivists perform during archival "processing." Processing is a general word to describe how archivists make materials available to users and involves a set of tasks including arranging, describing, rehousing, and performing preservation on archival materials. Preservation, unlike conservation, involves removing harmful materials, such as metal fasteners, or rehousing archival materials into new housing, such as acid-free folders and boxes, to prevent further deterioration of the materials. Preservation is minimally invasive and does not involve altering the physical materials; whereas conservation may involve physically altering/changing materials.
The ornaments on the tree are all made with binder clips and paper clips removed by archive intern Julia Peacock while processing the papers of the famed American tuba player and professor, R. Winston Morris. Archives also removes staples during preservation work, which can be grueling. These tedious tasks remove the potential for rust to form from the metal on the unique materials and preserves the materials for the future with less risk of deterioration. All DIY ornaments on the tree are made by employees in the library and archive interns.
These are examples/images of the ornaments created with the paperclips and binder clips in the collection and they include the supplies needed for the ornaments if you want to make them at home!