By Jennifer Huffman and Megan Atkinson
Three-time winner of the American Bandmasters Association Ostwald Composition Award and Tennessee Tech Professor Emeritus Robert Edward Jager donated his personal archives to the Tennessee Tech Archives & Special Collections. Dating from 1956 to 2018, the archives include original sketchbooks and manuscripts, published and unpublished musical scores, and papers that provide a near complete account of his music career as a conductor and composer from early childhood through 2018. They include such works as Esprit de Corps (1984), Third Suite for Band (1965), and I Dream of Peace (1998).
Born in Binghamton, New York, a love of music started very early for Robert E. Jager; his parents even met while playing in Salvation Army Bands. Robert began his career as a composer by preparing hymns and hymn variations to play alongside his father at the church that his father was a minister. He enlisted in the United States Navy, serving as Staff Arranger/Composer at the Armed Forces School of Music from 1962 until 1965. He completed a Master of Music from the University of Michigan in 1968 and soon after started as a lecturer at Old Dominion University, composing both the words and music for their Alma Mater. After an earlier performance at Tennessee Tech University, Jager was later hired to join the faculty at Tennessee Technological University. In 2001, he retired after thirty years. As of 2019, the Tennessee Tech Foundation is currently working to create the Robert Jager Music Education Endowment for students who wish to major in music education.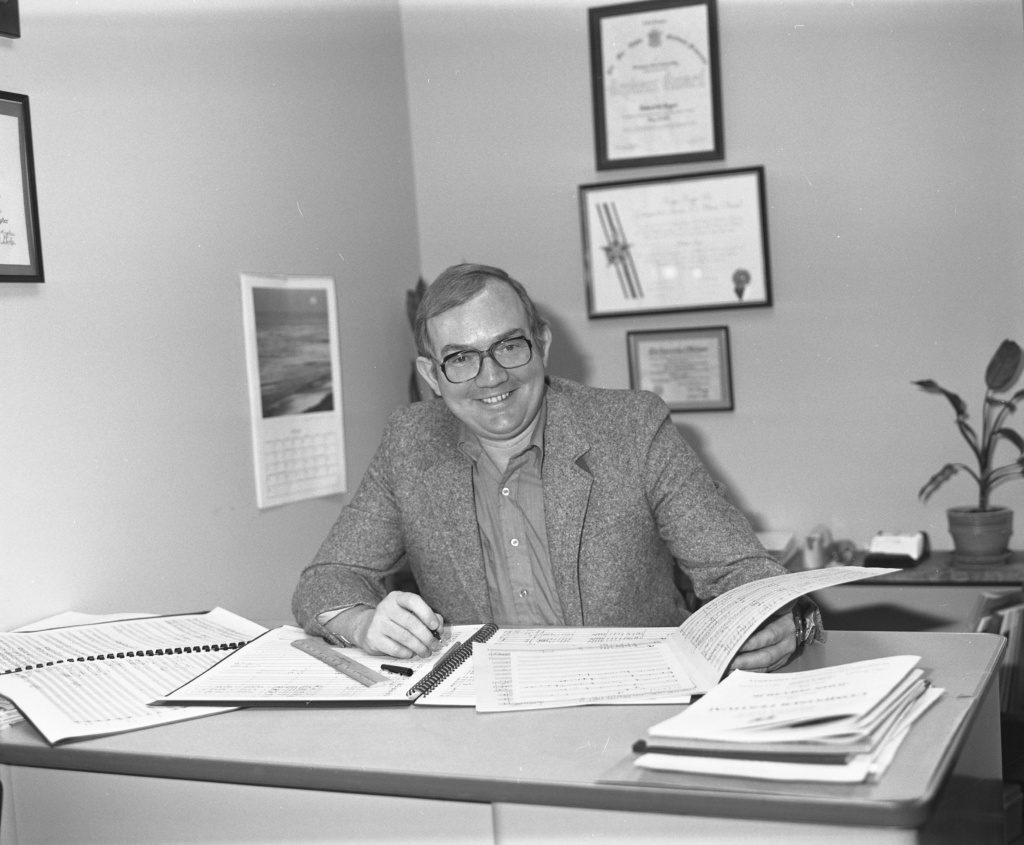 Robert Jager has travelled as a conductor and lecturer across the United States of America, Canada, Europe, Japan, and the Republic of China. In addition to being the only three-time winner of the American Bandmasters Association's "Oswald Award", he has earned two fellowships along with numerous awards that span several decades. He has published over 150 musical works, many of them commissioned by major music organizations including every Washington-based military band, many large Universities, and the Tokayo Kosei Wind Orchestra.
A large portion of the Robert E. Jager papers, including published works and audio recordings, are available to search via EagleSearch at https://www.tntech.edu/library/. This collection showcases his musical processes from the beginning stages of development to finish.
Tennessee Tech Archives is grateful to be the administrators of this Professor Emeritus's papers, which are open to all researchers wishing to investigate Jager's history, career, and subsequent influence on the musical community or to casual patrons interested in hearing the fabulous compositions. The published works and audio recordings are searchable through library catalogs worldwide and the finding aid, processed by intern Jennifer Huffman, is available here:
You can listen to a few available performed pieces here: https://www.tntech.edu/library/archives-finding-aids.php
Esprit de Corps https://www.youtube.com/watch?v=0bGlThSsSMU
Third Suite https://www.youtube.com/watch?v=B-iogvj5WP8\
Diamond Variations https://www.youtube.com/watch?v=vmrhUyWZg08&feature=youtu.be