Tech Archives worked with vendors to perform our digitization on negatives, reel film and sound, and cassette tapes. Almost 10,000 negatives featuring the Upper Cumberland from the 1930s to the 1970s are currently being described and will be available online soon. Describing the materials is time consuming and each individual photograph needs at least a title and a date. The photographs from these efforts are fantastic and can lead anyone interested in history down a few rabbit holes, as was the case with me and photographs from the Dispatch newspaper featuring the grand opening of the Cookeville Mall.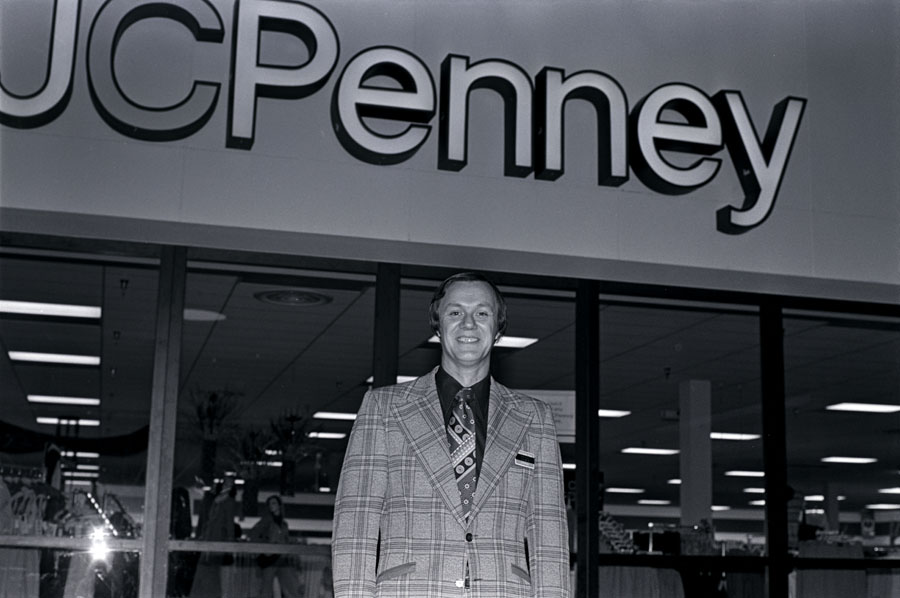 Planning for the Cookeville Mall began three years prior to its opening. Continental Development Company developed and planned the mall project and Roy Hendrick of Baton Rouge, Louisiana designed the mall. J.C. Penney, when searching for its future location, rated Cookeville its fourth choice, but Cookeville was eventually selected due to being a "hub city" between Nashville and Knoxville, Jefferson Avenue's proximity to I-40, and Cookeville's good market. When land on South Jefferson came onto the market, a site-study was performed and the area was selected. Planning for the future mall began and construction on the mall began in late 1976. Construction lasted approximately one year and was completed by R.L. Scobey and Sons construction company of Nashville.
Cookeville Mall's grand opening occurred from October 5-7 in 1977 and the event sparked a huge celebration in the Cookeville area, with three days of special opening events, including performances in the parking lot from Cookeville High School's band and majorettes before the ribbon-cutting ceremony. Tennessee Tech provided art demonstrations, music performances, and music and dance lessons. "The Shopping Place of the Upper Cumberlands" was hailed as modern, exotic, and exciting, and a "stately structure." "Like a Park," the new mall's interior included resting spots with fountains, plants, skylights, and trees, and as one merchant put it, no rain! The design was to create an "outdoor atmosphere to indoor shopping." The Bank of Putnam County even installed its first ATM machine in the new, modern mall. Edd Rogers Chevrolet-Pontiac and Buick displayed and raffled a 1978 Chevy Chevette in the mall.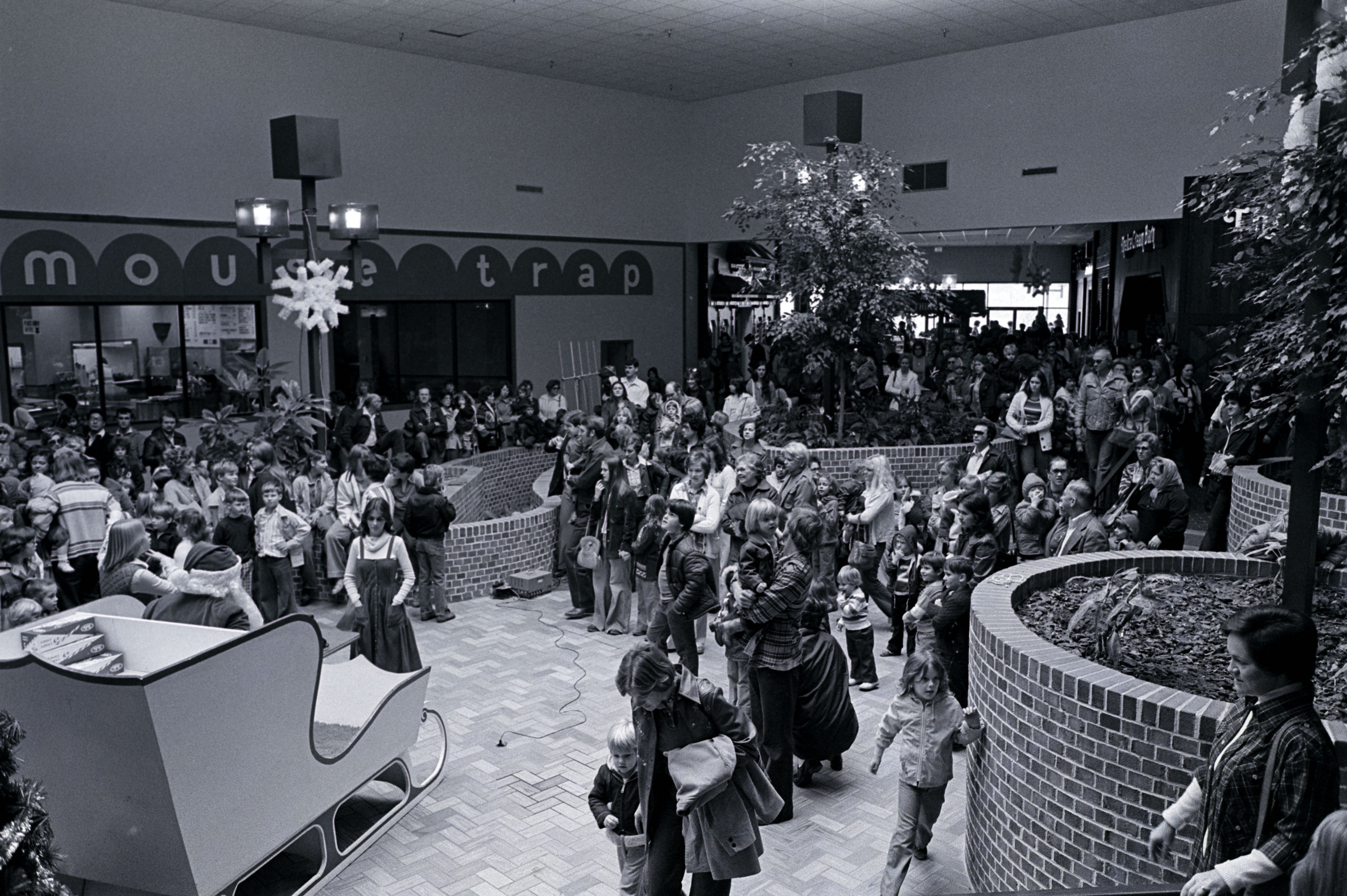 When it opened, the mall included 37 retail stores and two anchor stores, each over 30,000 square feet. The anchor stores were JC Penney and Harvey's, a department store that originated in Nashville. Some of the first stores in the mall were Bittner's Tuxedo Rental, the Sound Shop, Cracker Barrel, Linda's Lingerie, Toy Time, Keys and Things, Lee's Lady Shop, The Place ladies clothing, Hallmark, The Dragon Gate, Merle Norman, Village Boutique, the Smoke Shop, and California Concepts hair. Shops and shop owners were highlighted in both the Herald Citizen and the The Dispatch newspapers, many times discussing the backgrounds of Cookeville's new and current business managers.
The mall's construction was joined by restaurants appearing all over town, especially in the Jefferson Avenue Area. The 1978 Eagle states that students and locals flocked to "Burger Row," a nickname referring to the number of restaurants around Jefferson Avenue, especially burger chains.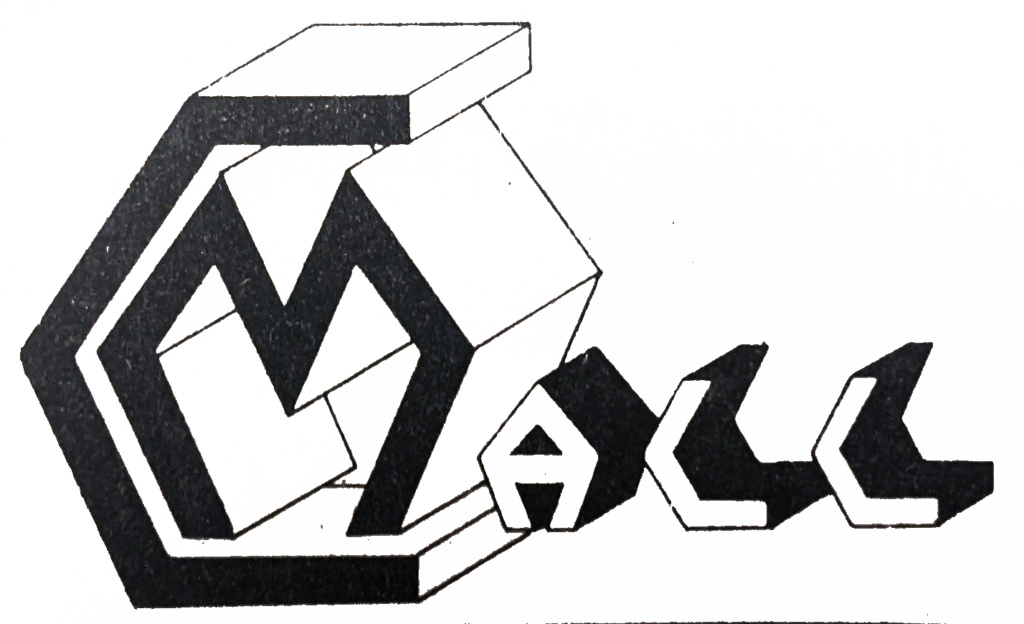 Unfortunately, the boom eventually led to bust, as is the state of malls across America. Eventually other shopping centers, such as Jackson Plaza constructed in 1999, began to house retailers that may have previously been located in a mall. Then the more obvious change from in-person to online shopping and Amazon greatly affected the shopping mall.
With a love of shopping malls and The Dispatch photographs, I decided to see what the status of the Cookeville Mall was today. This is my second trip. Five years ago, the interior of the mall was mostly empty. As of 2021, Planet Fitness and Gimme A $5 are where Harvey's was located, anchor store J.C. Penney was open, and the Cookeville Antique Mall was located in Cracker Barrel's original location outside the mall. Inside the mall's west side were two businesses – Cookeville Cosmetology School and Thrive Family Fun Center, a business that offered a silver lining to the mall's future.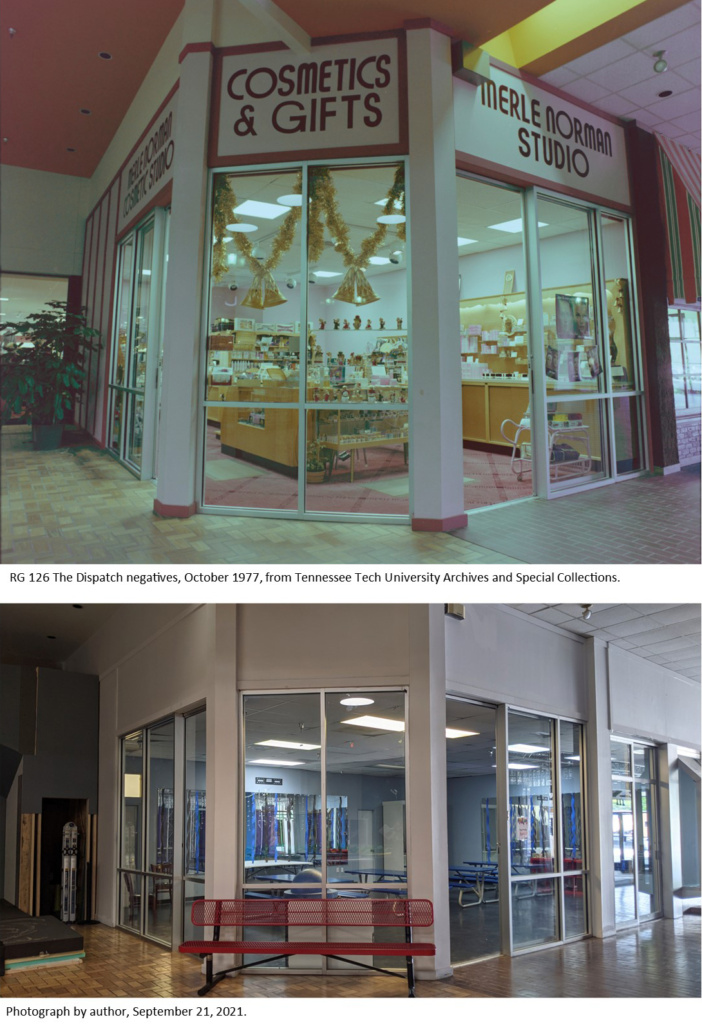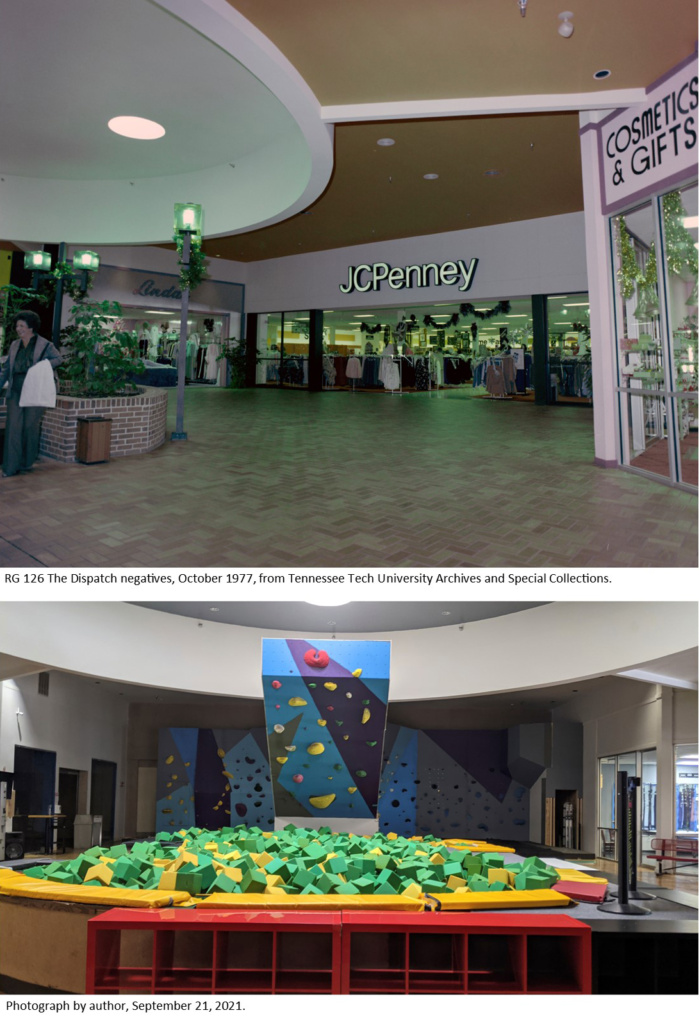 I walked through Thrive to see what was happening inside and photograph some of the old businesses. Thrive was setting up for their Halloween event and they were kind enough to let me photograph even while their business was in a state of disarray. These are a few photographs of what I found at Thrive, which has effectively utilized most of the mall interior.
If you are/were a Tech Student, employee, or Upper Cumberland resident with an interesting story regarding the Cookeville Mall, please share your experiences with us. Tech Archives would like to collect, preserve, and make accessible these experiences and memories of the Cookeville Mall with future researchers. Follow this link to participate!
Author's Note: Thrive Family Fun Center has arcade games, a trampoline room, nerf wars, and a rock-climbing wall. These activities look fun alone, but their Halloween set-up looks like it will be fantastic. They will host their Halloween event on Fridays and Saturdays in October. For more information: https://thrivecookeville.com/ 
This video is from a YouTuber, but includes a commercial from the Cookeville Mall in 1994.
References:
The Dispatch newspaper, October 4-7, 1977.
The Eagle yearbook, 1978.
The Herald Citizen newspaper, October 4-7, 1977.
The Oracle newspaper, October 7, 1977.
RG 126 The Dispatch negatives, October 1977, from Tennessee Tech University Archives and Special Collections.
Sky City Retail History blog, June 11, 2009. http://skycity2.blogspot.com/2009/06/cookeville-mall-cookeville-tn_11.html
"Stonemar spends $30m for Tenn. shopping center." Real Estate Weekly, vol. 54, no. 21, 23 Jan. 2008, p. 28.
The Tennessean, October 4, 1977, pg. 25.