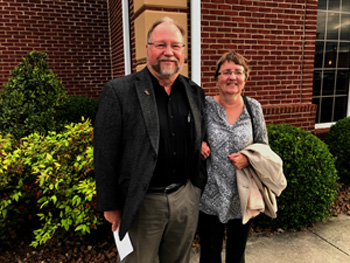 The purpose of this site is to cover the computer resources available to students, faculty and staff in the Department of Chemistry. The primary molecular modeling laboratory is located on the second floor of the south wing of the Laboratory Science Commons (room 2335). This laboratory is home to Linux workstations designed for molecular modeling and quantum mechanical calculations for research and teaching.
The Chemistry Learning Commons is a student computer laboratory located on the first floor of the north wing of the Laboratory Science Commons (room 1131). This room is open to undergraduate and graduate students in the Department of Chemistry and has virtual desktops that connect to chemistry resources of the TechAnywhere system.
The molecular modeling laboratory is named through an endowment donation by Dr. Robert Clayton in honor of the late Professor Scott H. Northrup, who served as a physical chemist and computational chemistry expert in the Department of Chemistry from 1980 until his retirement in 2015. Dr. Northrup was born on November 10, 1951, in Lamar, Colorado, to the late Robert and Ruth Williams. He earned his bachelor's degree from Northern Colorado University and his Master's and Doctorate degrees from the University of Colorado. After receiving his Ph.D., he served as a postdoctoral research laboratory for Professor Andrew McCammon at the University of Houston before joining the Tennessee Tech University faculty in 1980. His distinguished career spans 35 years and includes over 65 peer-reviewed publications, and served as the Chair of the Department of Chemistry from August 1997 to August 2005. He was awarded the Caplenor Faculty Research Award in 1988 for outstanding research accomplishments and the Sigma Xi Research Award at Tennessee Tech in 1982 and 1987, as well as the University's Outstanding Teaching Award in 2015. He retired in 2015 and continued serving the university teaching physical and general chemistry until his untimely death on January 11, 2018, in an apparent boating accident near his home at Center Hill Lake.
Professor Northrup loved to fish, and continued advising Tennessee Tech University's Bass Fishing Team even after retirement. Both Scott and his wife, Chris Northrup, were active in their church, Trinity Algood, since 1992. He was involved in Trinity's Music Mininstry and served as Director of the church's NetMinder's Ministry — an outreach group that provided fellowship and fun for men who enjoyed fishing. He also founded God's Jail Ministry, and has led the Little Flock Bible Study for 25 years.