COOKEVILLE, TN – Recently announced on Twitter, Tennessee Tech's CPTC team won 3rd place in the Global CPTC International Finals held in Rochester, NY January 6-9, 2022. A total of 16 teams completed in the international competition. First place went to Cal Poly Pomona with second place going to Stanford University.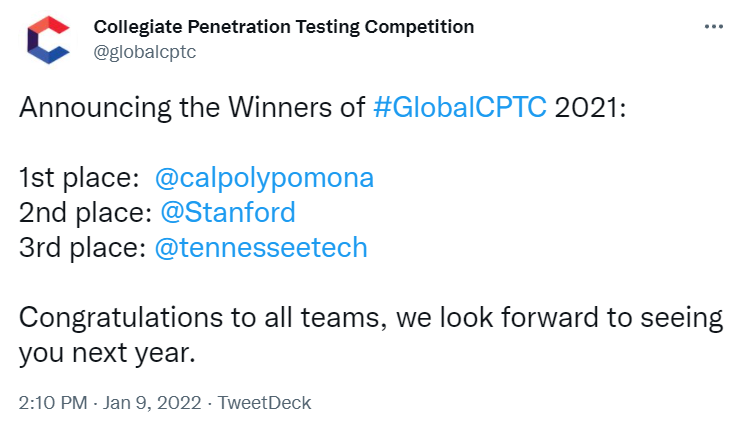 While weather-related issues made travel to Rochester impossible, Tech's team demonstrated their resilience and competed remotely with the team distributed over multiple locations across the state. "The agility and determination of this team has been nothing less than impressive" stated CEROC's assistant director, Eric Brown. "We are incredibly proud of their achievements." Dr. Ambareen Siraj, center director, noted "This year we had a team of great students who have consistently demonstrated their passion for cybersecurity, continuous learning, work ethics and collaborative mindset. Perfect recipe of a winning team!"
From the competitions website, "At its heart, CPTC is a bit different from several other collegiate Cybersecurity competitions. Instead of defending your network, searching for flags, or claiming ownership of systems, CPTC focuses on mimicking the activities performed during a real-world penetration testing engagement conducted by companies, professional services firms, and internal security departments around the world."
"To give an idea of the level of this competition; during both the 2020-2021 and the 2019-2020 competition cycles, some teams had more than 100 students attend tryouts. During the Global Finals, competitors discovered zero-days in commercial technologies, registered them as CVEs, and designed a patch for the most critical vulnerability. Many students get co-op and career job offers as a direct result of the Sponsor Faire."
Each year of the competition focuses on a different business sector. In the past, these sectors have included Energy, Finance, Transportation, and Healthcare. This year's competition focused on the Food Manufacturing and Retail sector.
The team consists of team captain Kaitlyn Carroll, Austin Brown, Austin Tice, Jesse Holland, Jacob Sweeten, and John Housley. Five members of the six-member team are CyberCorps Scholarship for Service (a program funded by the National Science Foundation) students.
More information about CPTC can be found at https://cp.tc. More information about Tennessee Tech can be found at https://www.tntech.edu/about.
About Cybersecurity Education, Research and Outreach Center
CEROC at Tennessee Tech University, established under the direction of Dr. Ambareen Siraj, is a center of excellence in the College of Engineering focused on K-20 cybersecurity education programs; research in emerging cybersecurity topics; and outreach programs to stakeholders in academia, government and industry. CEROC is an NSA-designated Center of Academic Excellence in Cyber Defense Education (CAE-CDE) and host of the first and largest CyberCorps SFS program in the State of Tennessee. CEROC, via Dr. Siraj's work, is also the founding group for the Women in Cybersecurity initiative, the largest of its type in the world focusing on enhancing diversity within the cybersecurity workforce. More information about CEROC and its programs can be found at https://www.tntech.edu/ceroc or by sending an email to ceroc@tntech.edu.