For Immediate Release
Contact:  Eric Brown, elbrown@tntech.edu, 931-372-3519
Cookeville, TN – The Cybersecurity Education, Research and Outreach Center (CEROC) at Tennessee Tech University hosted the Collegiate Penetration Testing Competition – Central Region on October 10-11, 2020. This represents the fourth year that Tennessee Tech has participated in the event and the second year to host the regional competition. Like so many other events, COVID-19 has changed the way events are conducted. This year's event was completely virtual with some participating teams having members working from different locations. It was truly a distributed event. The top winning team from this region will join the winners from the other CPTC regions around the world, which include Canada and the Middle East, for the international competition. Seven additional teams will be selected at large to compete in the international competition.
Competing in the Central Region in addition to Tennessee Tech are the University of Northern Iowa, Kansas State University, Southeast Missouri State University, University of Tulsa, University of Texas at San Antonio, Southern Methodist University, Purdue University, North Dakota State University, and Drexel University. IBM served as the national sponsor for the event. The event was locally sponsored by CEROC. "We are excited to be re-selected as the host site for this regional competition. CEROC hosts a number of outreach events throughout the year. We enjoy events like this where we can meet with our peer institutions even if it is only virtual," said Dr. Ambareen Siraj, CEROC's director.
As described by the organization, "The Collegiate Penetration Testing Competition (CPTC) provides a vehicle for up and coming cybersecurity student teams to build and hone the skills required to effectively discover, triage, and mitigate critical security vulnerabilities. This competition is unique in offering a simulated environment that mimics real world networks. The competition focuses on improving the security posture of a fictitious organization and reporting on risks in a manner that is similar to a real professional environment."
Russell Butturini, vice president and security architect at Cadence Bank, a regional commercial-focused bank with 99 branches across the Southeast, provided the keynote address for the region's award ceremony. Butturini, a long time friend to CEROC, encouraged the students to always be curious, seek to grow personal capacities, and seek to grow stronger teams through collaborative, immersive learning opportunities such as CPTC. Butturini also held a Q&A session immediately following the keynote address.
The competition incorporates skill sets involving the use of technology, accurate communication, and effective collaboration. Lucas Morris, a CPTC director, said "there is nothing more exciting than to watch people grow. In my 15 years of serving in security consulting leadership, the biggest challenge for most new professionals is not deep technical skills, but soft skills. Competitions like these help participants to develop those important soft skill sets and prepare them for their future career in the cybersecurity sector. An individual who is passionate about education and has the ability to communicate is incredibly valuable."
Ten teams competed in this year's event. The winners for the 2020 regional competition were Drexel University (1st place), Southern Methodist University (2nd place), and Tennessee Tech University (3rd place). The Tennessee Tech University team, by virtue of their incredible performance, is in the running for a wildcard selection for the international competition. Final decisions will be made once all regions have completed their respective events.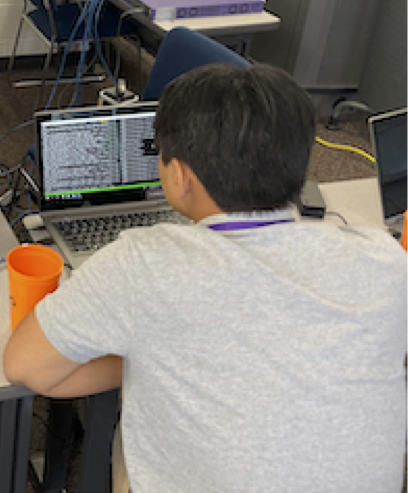 Participating in this year's Tennessee Tech team are Austin Brown, Max Layer, Sam Neel, Jacob Sweeten, Austin Tice, and Kaitlyn Carroll. Travis Lee, Cybersecurity Technologist with CEROC, served as the team coach as well as handling technology logistics for the event. Eric Brown, assistant director for CEROC, noted "This group is just another example of the high-quality, student professionals which enrich our center's work. We are very proud of their accomplishments both in achievement and professional growth."
CEROC (https://www.tntech.edu/ceroc) is a NSA-designated Center ofAcademic Excellence – Cyber Defense and a CyberCorps SFS participating school since December 2015. Located in the College of Engineering at Tennessee Tech, CEROC offers a wide variety of services and programs across the pillars of education, research and outreach. Dr. Ambareen Siraj is the founding director of the center who leads its education, research, and outreach activities. Dr. Siraj is also the founder of the Women in Cybersecurity conference and organization (https://www.wicys.org/).
More information about the Collegiate Penetration Testing Competition can be found at https://nationalcptc.org. More information about the Central Region Competition can be found at https://www.tntech.edu/ceroc/outreach/cptc/.